Bring Your Vision to Life at Ampersand Bay Resort
Here at Ampersand Bay Resort, we believe that your wedding isn't just a special day, it's a special weekend. Weddings are not only a union of a beautiful couple, but a reunion of family and friends. Memories are made at weddings, and guests travel from near and far. Your guests will each have a home away from home in a lovely cabin, cottage or suite, with the events of the wedding, reception and rehearsal right outside their door. Imagine the fun of gathering everyone together around the campfire, sneaking away for a quiet paddle, or bonding with a beach volleyball or Kan Jam game against your relatives between the formal events.
The open space at the resort gives you the freedom to make your wedding anything you want it to be. From casual to glam, our experienced wedding planner and staff can help you bring your vision to life. If you prefer a church wedding, or one of our local indoor venues for your ceremony and reception, we can still make your wedding into a weekend event by providing you and your guests with lovely accommodations.
Wedding options are available in May, June, September and October for Full On-Site Weddings for Off-Site Weddings/Accomodations only. During the months of Novemeber and December we offer Accomodations only.
If you'd like to schedule a property tour, or to speak with one of our experienced staff members about your vision, give us a call at (518) 891-3001 or e-mail info@ampersandbay.com today.
Booking Information for Ampersand Bay Resort Weddings
For an On-Site Wedding We Offer:
Full access to our 28 acre property for your rehearsal, ceremony, and reception for up to 150 guests
Free use of Canoes, Kayaks, Paddle Boards, and Pedal Boat
Boat Slips to bring your boat, or you can rent boats from our rental fleet
Staff assistance to coordinate delivery, set-up and removal of party supplies
Electrical supply for your events
Access to cooler space and storage space for your event items
Assistance in preparing guest rooms with gift bags and welcome materials
Access to our experienced and knowledgeable wedding planner VanBee & Co. to plan and execute your event
Daily beach preparation, removal of volleyball net if desired, evening campfires
Additional resort staff on hand to assist with the event by providing regular trash removal, moving grills and tables, and providing assistance to guests so that nothing is overlooked on your special weekend
For Off-Site Events We Offer:
Lovely rental suites, cabins and cottages- we will set them aside for your friends and family to make their reservations with special wedding rates for additional nights before or after the wedding
Free access to canoes, kayaks, stand up paddle boards, and pedal boat
Time and space to bond- with an evening campfire, beach games and lots of green space, your family can enjoy a reunion-style weekend around the main events
Pricing & Options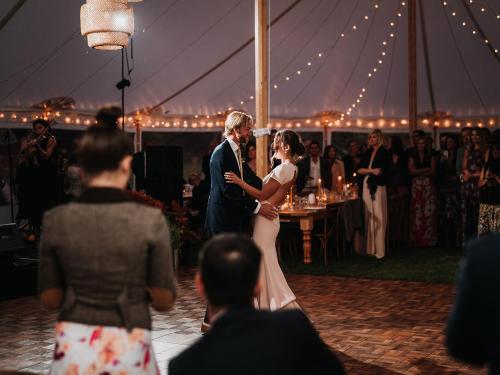 Pricing/Options for On-Site Weddings:
Create your dream event- weddings at Ampersand Bay Resort are a special weekend, not just a special day. Get your family and friends together for a black tie event under the Adirondack stars, a beach wedding with kick ball and beers on the lawn, or anything in between. The versatility of our space allows you to make your event personalized in every way.
Brides and Grooms may choose to book the entire property themselves and do their own room assignments in order to maximize the number of guests in each rental unit.
Brides and Grooms may also choose to block the entire property and invite guests to make their own reservations. They may wish to invite immediate family and the wedding party to make reservations first, with other guests invited to reserve at a later time. Brides and Grooms are responsible to cover the cost of any units that are not rented in the event of any cancellations, or if the entire resort is not booked.
For non-holiday weekends in May, June, September and October, we require a 2 night minimum with room rates at the off-season price. Shoulder nights before or after the event are offered to wedding guests at 50% off. For holiday weekends (Memorial Day, Labor Day, Columbus Day, etc.), we require a three night commitment with rates concurrent with the season. Shoulder nights are also offered at 50% off.
Pricing will be fixed at the rates in the year that you block your event. For example, if you block our property and sign your contract in 2019 for a 2020 wedding, your guests will enjoy the 2019 rates even if they don't finalize their booking until 2020.
We request that our wedding planner VanBee & Co. be contracted to coordinate the event as she is familiar with our venue and all necessary vendors in our region for your event. Her fee is not included in the venue fee. Ampersand Bay does not have an indoor facility, so all necessary event materials must be contracted with outside vendors, this includes food.
A venue fee of $5,500 that covers the following costs incurred by the resort for a wedding event- 1) Additional staff to assist with and coordinate delivery of event materials and supplies. 2) Lost reservations on the days prior to your event due to the wedding preparations. 3) Additional staff for trash removal on property, parking assistance, grooming of grounds, etc. 4) Electricity provided in the common areas of the resort for tents, lighting, music, etc. 5) Communication with local HOA to request extension of quiet hours. 6) Boat slips and launch access if you choose to bring a boat or rent one from another marina. 7) Re-seeding of grass in areas where it is damaged due to tents, tables, foot traffic, etc. 8) Additional parking space for wedding service providers, officiants, etc. 9) Storage space in our coolers and freezers and acceptance and storage of shipped wedding items. 10) Late Check-out on Sunday- so that you may host a farewell brunch and open gifts with your guests, or so that they can take their time on Sunday and sleep in a bit after the fun of the big event!
Pricing/Options for Off-Site Events:
Block a portion of our property and enjoy the evening campfire, beach games, canoes, kayaks and SUPs and all that our resort has to offer.
Block all of our property and enjoy the resort for yourself. Use the beach area to have a welcome BBQ, serve drinks, or host your guests to a sunset rehearsal dinner. Enjoy a late check-out on Sunday so that your guests may share in a morning brunch and watch you open gifts.
Get priority choice on boat rentals for the weekend so that you may treat your guests to an afternoon pontoon boat ride, or an opportunity to go fishing and relax on our world-class lake.
We require a 2 night minimum for non-holiday weekends and a 3 night minimum for holiday weekends. Pricing is concurrent with the seasonal pricing available on the rental units with shoulder nights offered at 50% for friends and family who will arrive early to assist with the event, or who will be arriving from a long distance.